Advertising Opportunities with Our Clients
For current rates click on the thumbnails below. For future years (once available) choose the archives tab in the current rates.
Journal of Nursing Specialties
This journal is in preparation for a 2024 scheduled launch. Advertising rates will be available later in 2023. For more information about the journal you can click on the image below or visit the journal website.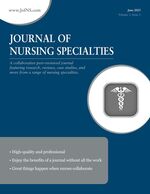 Canadian Journal of Pathology
Published on behalf of Canadian Association of Pathologists (CAP-ACP).
NSWOC Advance
Published on behalf of Nurses Specialized in Wound, Ostomy and Continence Canada (NSWOCC).